Twitter is the preferred social media outlet for Matthew to engage with fans. Follow the baseball card artist for giveaway contests and new gum!
I got some sweet props from fellow baseball card artist Blake Jamieson… his Topps Project 2020 cards are hot!
Dude your work is incredible!!! 🙌🏼🙌🏼🙌🏼

— Blake Jamieson (@blakejamieson) May 11, 2020
Recently had the pleasure of creating a special gift for Rob Friedman… the Pitching Ninja.
Well this is amazing! 🔥
Thanks @PapaSkogie and @MatthewLeeRosen pic.twitter.com/PnNd9eEV3i

— Rob Friedman (@PitchingNinja) May 8, 2020
Honored to receive compliments from the incredibly talented Graig Kreindler… another of my baseball card artist peers.
Maaaan, Matthew does killer work. https://t.co/g5pG488sUt

— Graig Kreindler (@GraigKreindler) May 3, 2020
---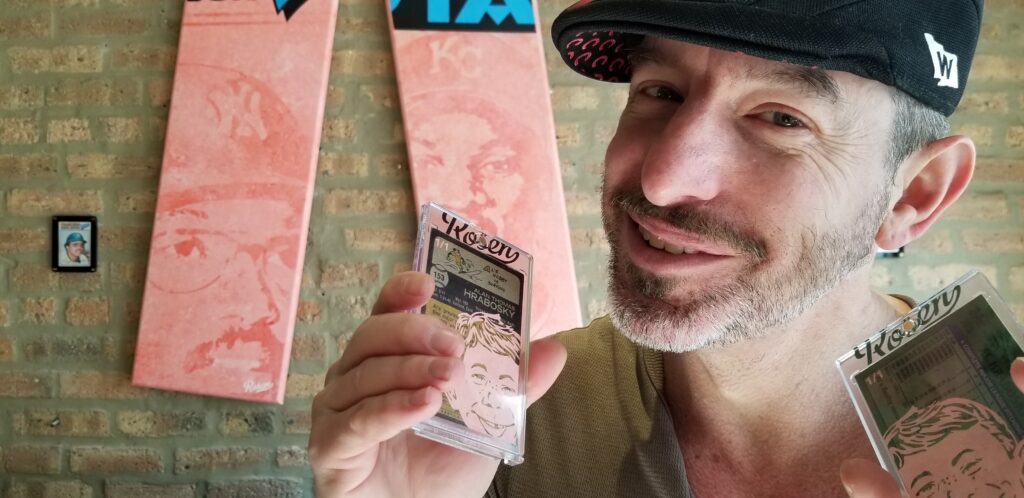 So, how did Matthew Lee Rosen begin making his collectible gum cards?
During the COVID-19 stay-at-home, like many others, I became uncertain about the future. I freelance as a designer for corporate events, which sent me flying across the country for most of every month. But, now… all of these events were cancelled. Therefore, I was out of work, and it was time to conserve my budget and resources.
Creating my large pieces of art required significant material cost and space… it just wasn't a smart use of my dollars during such an unpredictable time. So, I looked around the home studio. And, I surveyed the resources I had. Then, I decided it was time to go small.
I had already perfected my gum painting techniques, and owned boxes and boxes of baseball cards to paint on. So, naturally… I brainstormed collectible gum cards! This new concept opened up a whole new world of possibilities for me. I could create small, affordable pieces of pop art to convey baseball personalities and nostalgia.
I painted my first batch of gum cards in the last week of March, while staying home fore safety. Then, I ordered some Ultra Pro card protectors and applied my signature label to them. It made for a nice, complete presentation of my new collectible artworks.
As a result… I've been sharing my gum cards on social, and they've received an excellent response from my growing fanbase. Certainly, I didn't expect them to be such a big hit. But, I'm sure glad my new collectors love them!